By: Amanda Caines
106.5, I'm disappointed. I've been to your Weenie Roasts for many years past and had a great time. I haven't always liked all the bands you've chosen (or all the music you play), but I still respected the breadth of the rock genre.  The last year or two, though, non-rock has been creeping in and slowly taking over your station, and I have finally had enough. This is war.
I woke up early on a Saturday to rush to PNC Music Pavilion for what I thought was a day of rock music, but I was sorely, sorely mistaken. I knew that I hadn't necessarily been "hip," so I didn't know most of the bands on the bill (I knew 3 of the 14), so I figured I might end up hearing some of the corners of the rock genre that I really don't dig. That's fine – I know I'm not going to like every rock song that exists. I never expected to endure hours upon hours of Hipster Hell ear-rape by sterile backing tracks and heartless electronic garbage masquerading as rock music. I counted only 6 bands that performed without an electro-pop backing track, and really only 5 of those bands were any good.
Now, don't get me wrong: I love some electronic music. I love some pop, rap, new wave, and other types of electronica, and if that's what I'd been expecting, I might have had a better time at Weenie Roast '14… but 106.5 calls itself a "New Rock" station, and THIS. IS. NOT. ROCK. If you see more sample/keys devices on stage than tube amps and you strain to hear the guitars, it's not rock. Simple as that.
My first thought was that it is YOU, 106.5, who is screwing this up. Then I remembered that Imagine Dragons won Billboard awards and Grammys in Rock categories when that band, at least to me, is not rock. You're vindicated, 106.5: you're just playing what ClearChannel and the powers-that-be in the music business are feeding you. It's a systemic problem in the music business that electro-pop is being misclassified as rock and edging real, genuine, live rock out of the picture. I don't want my nephews growing up thinking that bands like Imagine Dragons, Foster the People, and Fitz and the Tantrums are rock. No, no, HELL no. Now maybe I'm just an old fogey and this is my musical equivalent to "Get off my frickin' lawn!!" but I'm sure that many non-fogies would agree with me about the sad state of "rock" music these days. Brett Scallions from Fuel certainly does, but more on that later.
Now that I've gotten my rant on the music business's War on Rock mostly out of my system, let's move on to the review of actual music as objectively as I can muster.
Opening band Eyes Eat Suns of Charlotte played a solid set of Paramore-esque punky pop rock with tons of energy and a lead female singer with an excellent set of pipes. They had a killer bass player, too, who also hopped on the mic to do a flawless rap flow in the middle of one song. They didn't get to finish their last song (local bands always get the boot, don't they?), but they played an energetic, heartfelt set that had the bro-hats bobbing throughout.
Next up was duo punky pop outfit IAMDYNAMITE from Detroit. They brought us reasonably memorable tunes, and interesting instrumentation with just a guitarist and a drummer, both of whom sang in harmony. I found the fuzzy, undefined guitar tone and poor tuning distracting at times, but I respect that these guys played real instruments in real time and they gave a genuine and upbeat performance.
Sir Sly broke the seal on the electronic bits for the evening. They had some good, catchy tunes, like "You Haunt Me," the title track from their record coming out September 16, and I thought it was neat that all the different players played multiple instruments, including some nifty auxiliary percussion. They even abandoned all the guitars in favor of keys/samples and percussion for at least one song. Each member sang, too, except for the drummer.  Their set definitely entertained with a late '80s/early '90s electropop ballad feel throughout.
Another Charlotte band, six-piece group Flagship opened up the mainstage around 2:30 p.m. with a pretty slushy and uninteresting set. The group's songs all had a ballad feel with some unusual percussive elements, but these songs lacked the catchy hooks that Sir Sly and the previous bands brought to the table.
I hate to give a bad review to a Charlotte band because I want to see people from my home city succeed more than anything, but I found Flagship to be way too mellow and unexciting on stage. I could see their record being a good listen-through on a road trip or for some chill-at-home mood music, but the energy just didn't come through onstage.
It all seemed a bit contrived and overproduced, and their stage presence was almost nonexistent to make up for that. Sorry, guys.
As I hoofed it back to the side stage, Big Data was pumping up the crowd with some high-energy, '80's inspired electro-pop reminiscent of Duran Duran meets the B-52s. With dual vocalists, one male, one female, their vocal lines were unique and the two mixed and matched their various vocal registers and tonal abilities to keep it interesting. The two singers choreographed a few cheesy stage moves to add visual elements to the upbeat music. I was unimpressed, but people of all ages were dancing up a storm in the crowd.
Bear Hands continued the electro-pop trend of the day with some heavy-hitting tunes with reasonably memorable hooks. They had a lot of energy and seemed excited to be there. They brought a good game and played a good set, I suppose, but at this point, my ears were so fatigued from such overloaded electronic music from just about everyone (not to mention the ear-splitting low-end in the mix drowning out a lot of guitars and vocals) that I just couldn't pay a whole lot of attention to them. My mind kept wandering, and I couldn't help but wonder, "Where's the real rock?" I went ahead and left before Bear Hands' last song, because I just couldn't take it anymore: the overly bass-heavy mix, the meedly-meedly electronic sounds, the non-rock…
I walked out to the side stage to catch Wild Cub's set, and the Scratch 'n' Sniff guys were emceeing when I arrived. While introducing Wild Cub, they asked the crowd "Are you ready for some rock?" I thought, "YES, PLEASE!" hoping maybe this next band would bring me some! Nope. A big, steaming cup o' nope. I tried to enjoy their set anyway, and it was okay. Everyone on stage except for the singer looked pretty lackadaisical at best and completely bored at worst, and the Billy-Idol-Meets-Peter-Gabriel vocals were interesting, but the songs were mostly just too slow-paced and mellow for my liking. They did have one song I liked, called "Hold On," with an almost disco feel to it, but I found out later that it was a cover of a Drake song. Well done, but not their song, so I can only give them so much credit for that nugget of awesomeness in an otherwise sleepy set.
Slightly sunburned and somewhat heartbroken at the sad state of the Rock world showcased so far, I returned to the main stage to see The Pretty Reckless. I went in never having heard the band, though I had heard good words about them from some friends, but I tried to keep my expectations low.
When they broke into their first guitar chord, I was hooked! "FINALLY A F*CKING ROCK BAND," I wrote in my notebook. The Pretty Reckless didn't bring MacBooks or samples; just guitars, long hair, and in-your-face, high-energy rock-n-roll. Singer Taylor Momsen and her bright blond locks sauntered sexily across the stage throughout the set, and even humped the guitarist's leg at one point, all the while switching her vocal styles everywhere from classic rock wails to modern metal growls. I couldn't help but bob my head to their grinding, guitar-driven tunes.
Keeping the rock streak going on the outside stage, Foxy Shazam brought their insane carnival of a rock show with them once again. If you've never experienced a Foxy Shazam live show, you are clearly missing out.
Even if you don't dig their weird, pop-rock tunes, they fill their set with all sorts of antics, anything from jumping from tall surfaces, to eating a handful of lit cigarettes, to topless two-person headbanger chorus lines performed by the trumpet and keys players.
The music was on-point, too, without the need for sample tracks – those trumpet parts you hear in "I Like It" come from an actual trumpet (which gets flipped up in the air between trumpet licks, by the way).
The songs are upbeat, hard-hitting, and real, and Foxy knows how to get the booties shakin' in the crowd. They were definitely the most energetic and entertaining act all day, by far.
J. Roddy Walston and the Business made a good bridge between the old school and the new school, with some tunes that came across as modern pop and others that brought it back to '50s style rock. Lots of energy emanated from the band on stage, with J. Roddy on lead vocals  headbanging furiously into his keyboard like Animal from The Muppets. I dug the grooves and the energy as well as the tight, three-part vocal harmonies. J. Roddy got the mainstage crowd on their feet and singing along for the first time during the event.
A bit of potential controversy erupted when Fuel took the stage. Singer/guitarist Brett Scallions voiced his obvious displeasure at the current state of rock and the fact that Fuel was on the side stage instead of the mainstage despite the band's 11 year tenure, and he challenged 106.5 to play the band's new single "Cold Summer" in their regular rotation and make it one of the top 10 most played. To me, that would be awesome, because the song totally rocked, as did the rest of Fuel's set. The performance of the songs showed so much raw heart, and even the on-stage, between-song commentary was entertaining, evoking many a laugh from the crowd. Laughter wasn't the only thing the crowd contributed, though: Brett requested that everybody sing the lead on one chorus each of "Bad Day" and "Shimmer," which we gladly obliged.
Teens to old geezers were singing along and bobbing to the riffs, all delivered with nary a single backing track, digital sample, or keyboard – just pure, unadulterated electric guitar riffage from real-live human beings. It was beautiful to behold, and such a relief to my rock-starved ears. What really hit home the most, though, was Brett's comment at the end of the set: "We're just four guys on a stage. What you see is what you get. We're not gonna play a bunch of tracks for you… just real rock-n-roll." To which I shouted in reply, horns-up: "HELL YES!"
If  it hadn't been for the ball-of-fire co-lead vocalist Noelle Scaggs, I probably would not have enjoyed Fitz and the Tantrums as much as I did. She was the queen of crowd-hype, talking to and interacting with the excited sweaty mob of music fans in front of her and getting us all to hold up our hands to form little hearts, among other things. The audience definitely went wild for the hipster anthem "Out of My League." Their other original songs definitely boasted some great hooks, and the songs were fun-loving to hear.
I stayed mostly entertained despite the growing fatigue that only comes from long, hot days full of 10+ hours of music you're not really sure you like.
For me, the highlight of their set was an incredibly well done reboot of The Eurythmics' "Sweet Dreams," which was definitely the best cover of the song I've ever heard. It stayed true to the original, but the Fitz crew added some flair and some heaviness to make it their own. The vocals were spot-on, and it was just fabulous.
Foster the People came out in silhouette to an eardrum-buster of a sub-bass note, and the crowd went absolutely insane. Atmospheric, trippy chord swells flew through the air, and lead singer Mark Foster stretched out his arms as if he were flying on top of them.
While the people around me seemed to absolutely adore Foster the People, I found their music to be too repetitive and too similar, up until they played "Pumped Up Kicks," their major hit and the only song of theirs I'd heard before, which definitely set itself apart from the others for actually having a hook to it, albeit an incredibly annoying one. I can't say their set was bad, because thousands of screaming fans don't lie, but I was bored to tears and ready for it to be over.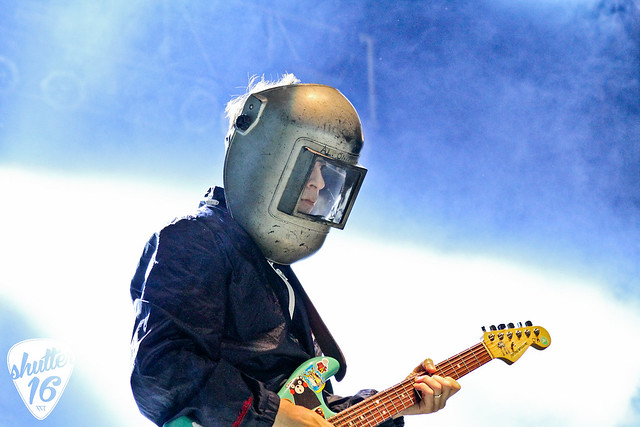 As the stagehands hoisted up Weezer's giant vintage-marquee-esque winged W logo over the band's vintage amps, I thought to myself, "Old school; I like it." Weezer kicked it off with "My Name is Jonas," and dug into "Hash Pipe" shortly thereafter to thunderous applause. While the guys didn't necessarily move energetically around the stage like some of the bands that had gone before, Weezer can get away with that shoegaze charm of the late '90s while standing pretty still. That's not to say that they were without emotion, though – as the stage lights darkened to a light blue glow, the big, light-up W came on as singer/guitarist Rivers Cuomo rang out the first notes to the anthemic "Say It Ain't So." Once again, the applause was near-deafening, as people all around me sang along, note-for-note, while the emotion poured out from the four guys onstage.
Hundreds of "horns" went up in time with the two heavy chords that mark the beginning of the chorus, and it warmed my heart to see everyone having so much fun to a song older than many of the attendees. The slightly off-key crowd sing-along to The Sweater Song was equally heartwarming with '90s nostalgia.
Despite the numerous trips down memory lane, Weezer brought out some of their newer material as well, including "Back to the Shack" that sings my personal sentiments exactly with "Let's turn up the radio / Turn off the stupid singing shows." Closing out the set with an encore of "Buddy Holly," the guys all jumped on the drum platform and beat on a bunch of drums and cymbals together and then all four walked up front to take a curtain-call-style bow. I found their whole performance fun and charming, and they held their own with the old school in the face of all the new school dominating the day.
While it was far from the best Weenie I've attended, it had its good points, most of which came out of guitar amplifiers and acoustic drums. I know that genres change and evolve, but I can't say I agree with some of the amalgamations that 106.5 and rock stations nationally are making of the Rock genre. I may not be able to do much to change it, but I will say this: if next year's lineup is similarly electronic, I might just spend more time out at the taco truck until the real rock bands come on.
Eyes Eat Suns – https://www.facebook.com/EyesEatSuns
IAmDynamite – http://www.iamdynamite.com
Sir Sly – http://sir-sly.com
Flagship – http://flagshipmusic.com
Big Data – http://bigdata.fm
Bear Hands – http://bearhandsband.com
Wild Cub – http://wildcubmusic.com/
The Pretty Reckless – http://goingtohell.me/hell/
Foxy Shazam – http://www.foxyshazam.com/
J. Roddy Walston & The Business – http://jroddywalstonandthebusiness.com
Fuel – http://www.fuelrocks.com/
Fitz and the Tantrums – http://www.fitzandthetantrums.com/
Foster the People – http://www.fosterthepeople.com/
Weezer – http://www.weezer.com/